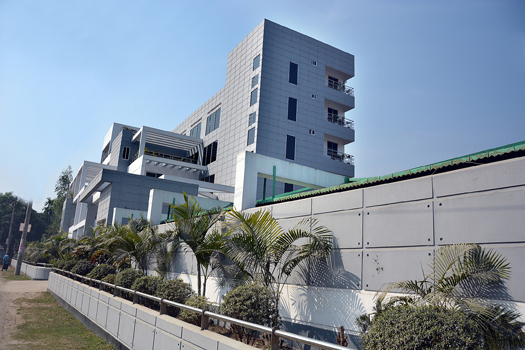 Profile of SKS Foundation
The Genesis
The joint venture of a few local self-motivated young men & women launched the foundation of Samaj Kallyan Sangstha (SKS) back on 1 December 1987. Their mission took place at Hat Bharatkhai under Saghata union of Sagahata upazila targeting to support the poor and oppressed char dwellers in the remote areas of Gaibandha district. The voluntary initiatives of the group gradually pushed SKS to engage as a community-based non-government organization to fight injustice through development intervention.
The Organization Today
SKS Foundation is a national non-government organization rooted in Northern Bangladesh. SKS facilitates multi-faceted development programs covering the poor & marginalized focusing women & children. The Organization has gradually emerged in supporting the poor & oppressed segments of the society to fight deprivation and injustice with multi-sectoral development interventions. SKS works following multi-disciplinary approach with vulnerable groups i.e. ethnic minority, landless, marginal farmers, climate victims, and so on in different geophysical contexts who suffer from exclusion and lack of access to resources. It has grown more visibly over the last 3 decades with diversity in its plans & programs targeting the deserving people. Thus, SKS has been Striving for a Sustainable Change in collaboration with the development partners and stakeholders.
Vision
A poverty-free society where everyone has access to resources and live with voice, dignity and justice.
Mission Statement
SKS Foundation facilitates improvement of life and livelihood of the poor and excluded by reducing their vulnerabilities, promoting empowerment and improving access to development opportunities and resources. SKS Foundation collaborates with government including local government, private sector, NGOs, networks and donors to ensure sustainable development.
Goal
Quality of life of the poor and excluded groups improved with access to and use of effective and inclusive development opportunity and resources.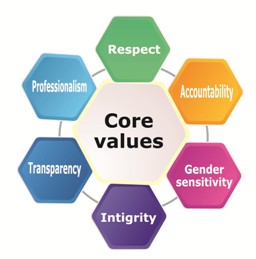 Core values
Respect
Accountability
Gender sensitivity
Integrity
Transparency
Professionalism
Unique features
Hard-to-reach priority
Visionary thoughts
Less hierarchy
Brand sensitive
Progressive growth
Change & adapt
Holistic approach
Strategic aims & priority issues :
Program Theme

Strategic Aim-1

Strategic Priority Issues

Social Empowerment

Combat social inequalities, exclusion and poor governance that perpetuates chronic deprivation and injustice for the poor & voiceless.

Inclusion of excluded and marginalized groups in development;
Women empowerment and gender sensitivity within SKS and outside;
Application of rights-based approach in SKS projects and activities;
Youth empowerment through marketable skills development;
Child-rights and social inclusion of children in development;
Sensitization of the duty bearers for accountability in service delivery.

Economic Development

Promote income security and economic freedom of the poor and marginalized groups and members who suffer serious livelihood challenges.

Youth employability and augmentation of employment opportunities;
Enterprise and entrepreneurship development for reinforcement of self-employment opportunities;
Human resource development with focus on both staff and community;
New area of operation with women's access to financial services;
Use of software and IT-based automation in program management.

Environmental Justice

Reduce environmental abuse, climate risks & disaster vulnerability with special focus on those who are critically vulnerable.

Climate change adaptation in social and economic livelihood;
Community-based disaster preparedness, emergency response and resilience;
Awareness raising on environmental pollution, protection and safeguard;
Research and advocacy for environmental justice and green economy.

Social Enterprising

Social Enterprising Increase people's access to basic quality services in health, education and other sectors with reasonable stake and terms.

Quality education services for all with reasonable cost and stake;
Technical and vocational training for youth and self-employment;
Primary health care, WASH and nutrition services for the poor and marginalized groups;
Quality health services for all with reasonable cost and stake;
Diversifying and scaling up Social Enterprises to recycle economic gains.
Program Intervention
Presently SKS Foundation is engaged in service delivery and rights-based programs for ensuring quality life and livelihoods of the poor and disadvantaged segments of the society covering 20 districts under Rangpur, Rajshahi, Dhaka & Khulna division of Bangladesh. The civil society, private & public organizations also remain in close collaboration & strategic partnership in providing quality services responding to the demand of the deserving communities through innovative program interventions.
SKS Foundation has extensive experiences in a range of interventions including livelihoods & food security; agriculture & natural resources management; value chain development & market linkages; human resources development & employment creation; human rights & social protection; women & adolescent girls' empowerment; health & education; WASH & nutrition; climate change adaptation & disaster risk reduction; financial services support for the poverty-stricken poor & disadvantaged groups; small & marginal farmers focusing the hard-to-reach & unserved rural & urban communities in the char, coastal, flood & drought-prone areas. Thus, SKS has reached to around 3.7 million people in collaboration with development partners and in turn is contributing to the development of Bangladesh.