CSO Platform Meeting Held to Tackle COVID-19 Crisis
"The Government of Bangladesh has engaged all-out efforts in tackling the COVID-19 pandemic. The Civil Society Organizations are working hard to help the poor and distressed people in facing this crisis. Their efforts are commendable and thankful. But I think, there is room for improvement." AKM Idris Ali, the District Relief and Rehabilitation Officer, Gaibandha made this statement.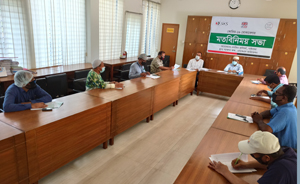 The District Relief and Rehabilitation Officer was exchanging his views as a guest of honor in the CSO Platform Meeting on 18 May 2020. He also appreciated SKS Foundation's role and contribution in setting-up the 100-bed Isolation Center in Gaibandha.
SKS Foundation, in partnership with Start Fund Bangladesh, organized the CSO Platform Meeting with participation of non-governmental organizations working in Gaibandha to tackle the coronavirus crisis in the district. The Meeting was held at SKS Foundation's Conference Hall, Gaibandha.
In the Meeting, the participating organizations highlighted their respective initiatives taken so far by them to tackle COVID-19. However, the CSO representatives pointed out that the marginalized people of the district are still in a dire situation. And to support the needy people effectively, they felt, there is a need for coordination between/among the NGOs and government organizations. To this end, it was decided that an organization would be given the responsibility of coordination and a database would be prepared for conducting emergency response in a disciplined manner. The Meeting also decided to chalk-out work-plans of the respective organizations in relation to fight this pandemic effectively.
Representatives from Friendship, RDRS, OBOLOMBON, GRDF, SDRS, CHINNOMUL MOHILA SOMITY, Gaibandha Government College, SKS Foundation as well as local journalists from Radio Sarabela, the Dainik Madhukar, and so on attended the Meeting.
SKS humanitarian support in prevention of Corona crisis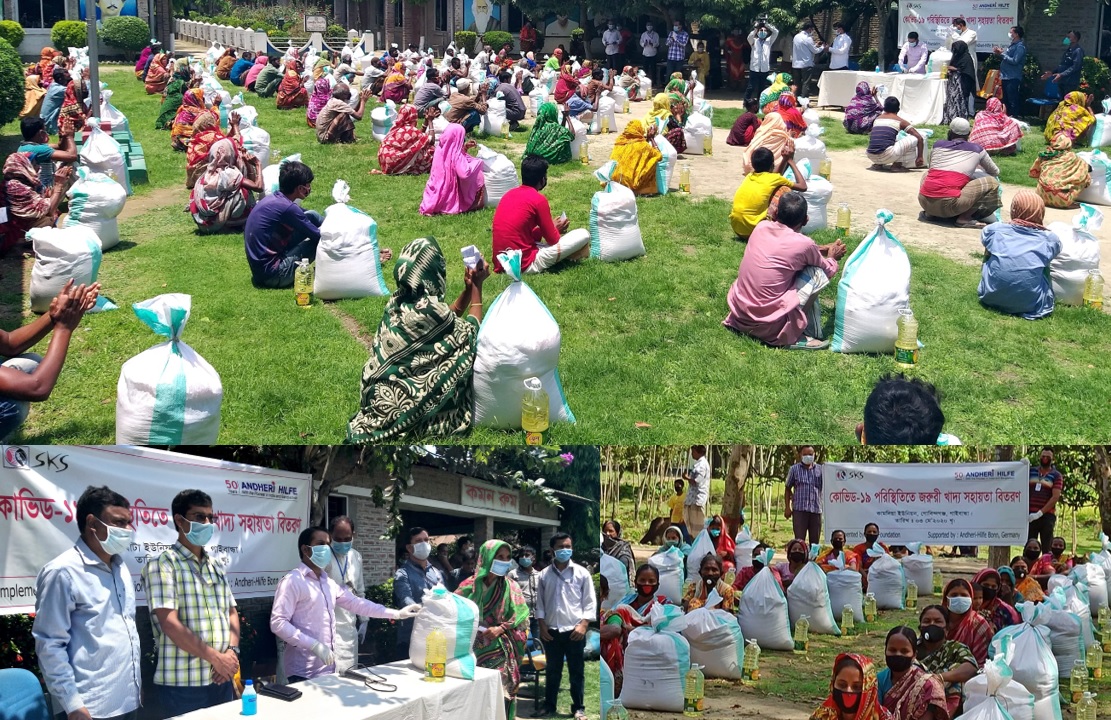 Corona Virus (Covid-19) has turned as a pandemic situation worldwide as well as in Bangladesh. People are being contaminated day by day and methods are failing to slow down the fatality due to Corona contamination. As a result, people from all walks of life ranging from the vulnerable rural poor to the urban well-off families are being affected from the wrath of this fatal virus.
With a view to overcoming this situation, SKS Foundation, in partnership with ANDHERI HILFE, Germany, has been providing humanitarian support to the poor & distressed families under the project 'Emergency Food Support in the Context of Covid-19'. As part of this initiative, the project has support 725 low-earning families during this lockdown situation. SKS Foundation has provided support to 350 ethnic minority 'Santal' and other poor families in 'Katabari' and Kamdia union of 'Gobindaganj upazila and 375 families of Saghata and Muktinagar union of Saghata upazila. The food package for each family included- Rice-20kg, Lentil (Mosur)-3kg, Potato-10kg, Salt-1kg and Soyabean oil- 2 liters.
The food package distribution took place on 3 May 2020 at the respective community areas following the social distancing as advised by the administration while representatives from the local administration & UPs were present. Officials of SKS Foundation were also present and managed the distribution of food package.
SKS distributed Hygiene Kits, Food Package and Cash Money among the low-income families
In prevention of Coronavirus (COVID-19), SKS Foundation distributed Food Package, Hygiene Kits & Cash Money among a total of 1,043 families accommodating around 5,000 people with support from the Start Fund Bangladesh. The distribution covered 550 families with Food Package and Hygiene Kits, 450 families with Hygiene Kits,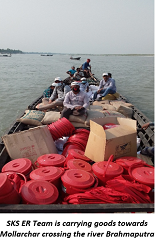 and 43 families with Multi-purpose Cash Grants (MPCG) in 4 unions including Kamarjani & Mollarchar under Sadar upazila, and Banogram & Jamalpur under Sadullapur upazila of Gaibandha district.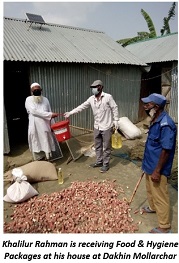 Each Hygiene Kit Package contained 1 Tap-attached Bucket with a Lead, 1 Mug, Soap-1250 gm, Detergent powder- 1 kg, Surgical Mask- 50 pieces, Sanitary Napkin- 8 pieces and a Leaflet upholding the messages on health & hygiene practices relating to Coronavirus issue. Each Food Package contained Rice-55kg, Lentils-15kg, Oil-6kg, Salt-1kg, and Sugar-2kg. The poor, day labor, elderly & women-headed families and other low-income families received the Hygiene Kits and Food packages while the jobless saloon workers (Barbers) received cash money Tk. 3,000/each. SKS Foundation distributed all the items reaching at the door-step of the recipient families in presence of the Chairmen & Members of the respective unions.
SKS' Food Bank Feeding 3,000 Day-labor Families during Lockdown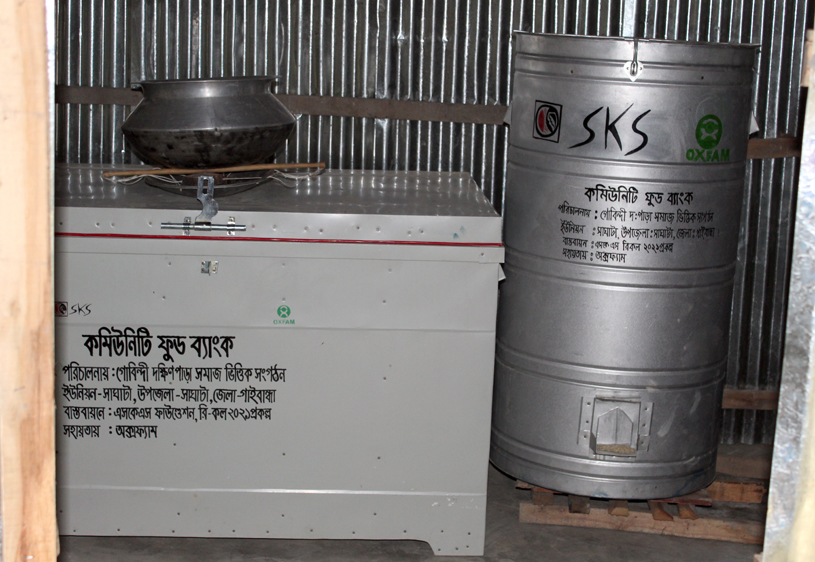 In Corona (COVID-19) lockdown, when daily wage-earners are struggling to feed their families, SKS Foundation's Food Bank has appeared to be the last resort to 3,000 families to survive. As Coronavirus has spread and lockdown imposed, lives of day labors thrown into starving while they are without work and food. These vulnerable families are facing unprecedented experiences as they do not know when and how the situation will end.
In rural areas like Saghata and Fulchhari upazila of Gaibandha district, SKS Foundation has promoted 12 Food Bank initiative (points) where community people have been storing rice to meet their need in crisis. The communities store 14.5 metric ton rice yearly. It helps the communities to meet their food crisis during any disaster or, emergency.
The Food Bank is an initiative taken by the community people to store rice in exchange of saving for future. In community, the families extremely exposed to natural disaster hoard their fist-hand rice and the rice is given and taken among themselves as they need to meet any crisis. As disaster-prone Gaibandha district, SKS foundation has promoted and expanded this Food Bank initiatives to other organizations/programs to prepare local people to fight any upcoming disaster.
The Food Banks have come into most of use these days when the community daily wage-earners are struggling to feed their families as their daily income halt for Coronavirus pandemic and lockdown. Now, the Food Banks are the only source to save them from starving.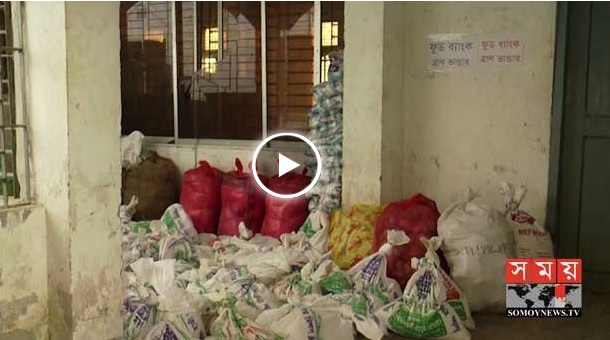 SKS Supported in Setting-up a 100-bed Isolation Centre in Gaibandha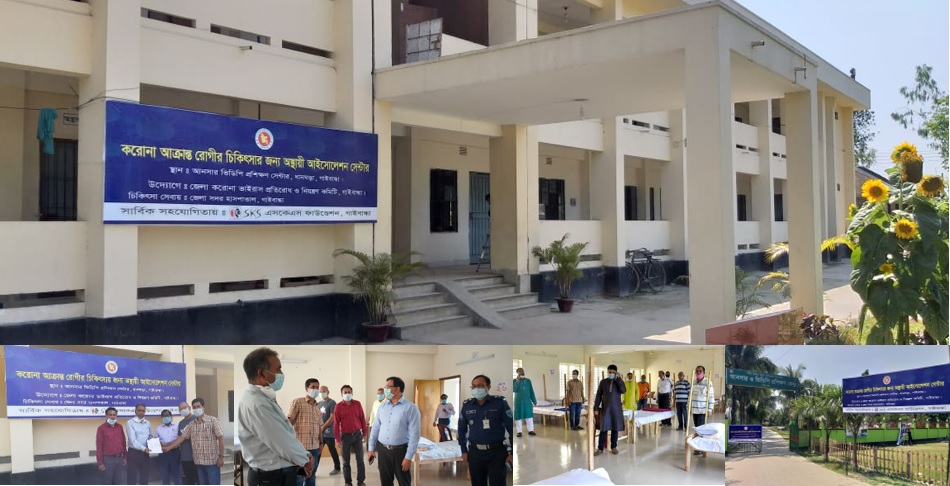 The Isolation Centre at Ansar & VDP Training Centre of Gaibandha district is ready to serve coronavirus infected people.
Today,4 April, the District Coronavirus Prevention Committee (DCPC) visited the Isolation Centre, and the Center was handed over to the Civil Surgeon, Gaibandha.
It is a joint venture of government and non-government organization amid of coronavirus outbreak in the district while it has taken only 3 days to set the Isolation Centre.
The District Coronavirus Prevention Committee (DCPC) which includes the Deputy Commissioner (DC) Abdul Matin as Chairperson, Civil Surgeon Dr. ABM Abu Hanif, as Secretary, Superintendent of Police Muhammad Towhidul Islam, and SKS representatives- Director- Finance & Accounts, Coordinator - Public Relations & Communication, Coordinator- Social Enterprises, and prominent local journalists were present during the handing over of the Centre.
DC Abdul Matin said SKS Foundation, upholding its charity spirit as a development organization, extended its helping hand to set-up the Isolation Centre with capacity of 100 patients under its social corporate responsibility. The Isolation Centre is set to serve the coronavirus patients separately and to tackle to exceed number of coronavirus patients in the district in near future.
Earlier, the District Ansar & VDP Department had given the permission to use the Training Centre. SKS Foundation has provided all logistic supports while the district Civil Surgeon Office will provide medicine facilities and district administration will play the management and monitoring role of the Centre.
Gaibandha Press Club journalists get masks, sanitizers from SKS Foundation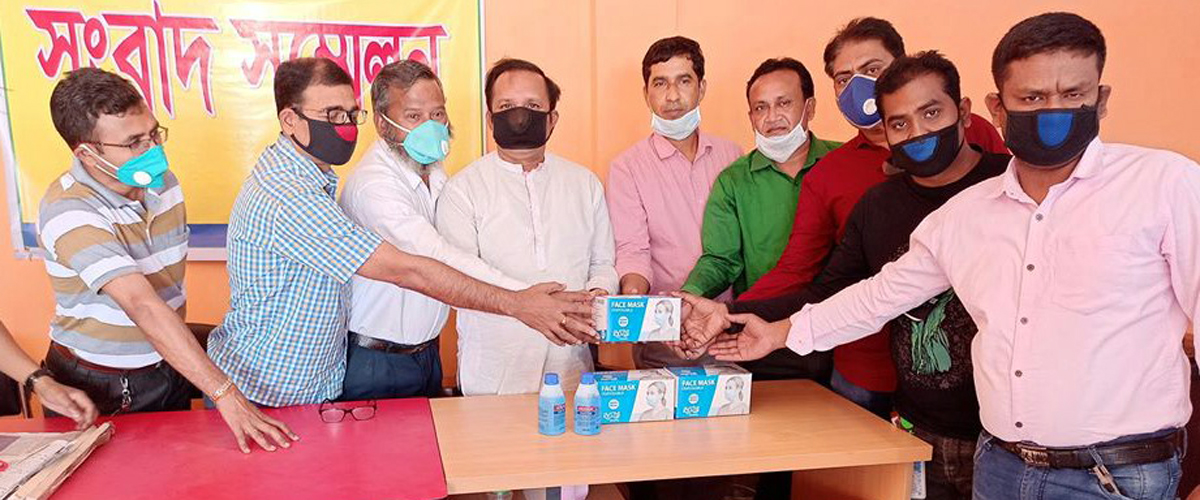 Journalists of Gaibandha Press Club located at Asaduzzaman Market of the district town got masks and hand sanitizers today from a local organization to prevent the spread of coronavirus that took an epidemic turn worldwide.
SKS Foundation, a reputed non-government organization, donated the 150 pieces of masks and two tubes of hand sanitizer to the club authority at noon so that the media men could discharge their professional duties in the risks of Covid-19 infection.
Abu Sayeed Sumon, social enterprise coordinaton of SKS Foundation and its public relations officer Ashraf Alam formally handed over the masks and the hand sanitizers to general secretary (GS) of the club Sarker Mohammad Shahiduzzaman.
Receiving the masks and hand sanitizers GS Sarker Mohammad Shahiduzzaman thanked the SKS Foundation for giving them the items and lauded the SKS Foundation for providing the support to set up an isolation centre at Ansar and Barrack at Dhanghara here for the corona infected patients.
Vice president of the club Quazi Ziaul Hafiz, treasure Goutamashis Guhasarker, and other journalists including Kaiser Ahmed Plabon, SM Biplob Islam, Farhan Sheakh, Foysal Jony, Rana Sarker, Sanjoy Saha, and Aminur Rahman were present on the occasion.
SKS Measures to Prevent Covid-19 (Coronavirus) Spread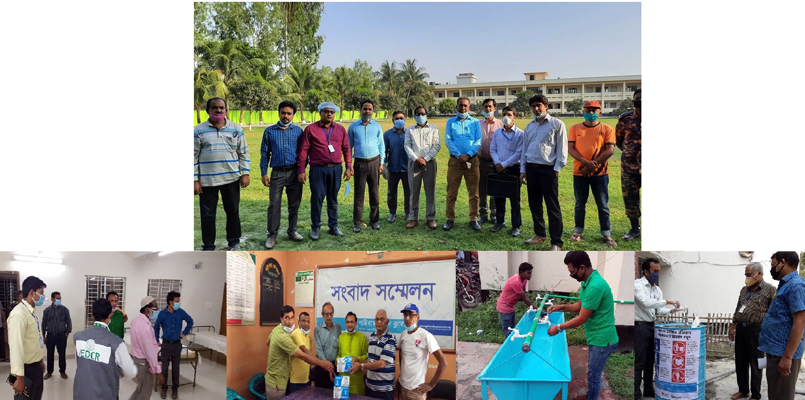 Covid-19 virus has hit across the world as pandemic. Bangladesh also has been affected by it. To fight this, the government has already taken a series of actions. The government has restricted all kind of gathering, closed all government institutions, the operation of public transport, announced public holiday asking people to stay at home.
In Gaibandha where SKS Foundation is rooted, no. of people have been identified as Covid-19 patients and isolated and are in home quarantine. Some of the patients have already been released from quarantine, and they are in home. All recent-back immigrants have reportedly been ensured home quarantine.
To stop spreading coronavirus, development organizations have taken various measures all over the country alongside the government initiatives. As a development partner of the government, SKS Foundation has also taken various initiatives to stop spreading the fatal virus in Gaibandha and other districts under its intervention.
In coordination with the district administration and health department, and being a member of the District Coronavirus Prevention & Control Committee, SKS Foundation has been conducting various types of activities across its working areas- all districts of Rangpur and Rajshahi division, and Satkhira, Jashore and Meherpur of Khulna division.
Since Gaibandha iscomparativelyat high risk of Coronavirus spreading, SKS Foundation is intensively working with the district and upazila administrations.In Gaibandha, a 100-bed Isolation Centre at Ansar VDP Training Centre is under progress to be ready by the District Coronavirus Prevention & Control Committee with full support from SKS Foundation.
As part of awareness building and providing the mass people with hygiene support relating to COVID-19 prevention, SKS Foundation has already distributed 20,000 Surgical Masks,hand sanitizers, soaps, hand gloves and PPE among and through the doctors, cleaners, journalists, law enforcing members, and NGO staffs. SKS has installed 25 Hand Wash Devices at different public places. Featuring measures to prevent Coronavirus, SKS has displayed 550 Festoons, 20 Roman Banners and 3 Billboards, Leaflets, etc in relation to make the mass people aware on the preventives from Coronavirus.
The Community Radio Sarabela FM 98.8, a sister concern of SKS Foundation, has started airing precautionary messages while the Dainik Madhukar has been publishing hygiene awareness messages and other relevant issues on COVID-19.
Number of development partners i.e. ActionAid Bangladesh, Andheri Hilfe-Bonn, Germany, Care-Bangladesh, Manusher Jonno Foundation, Oxfam in Bangladesh, Save the Children, Start Fund Bangladesh have been supporting SKS Foundation, alongside its own initiatives, standing beside the mass people in prevention of corona crisis. A total of BDT 68,201,744 has been spent so far in performing the following activities:
| | | | | |
| --- | --- | --- | --- | --- |
| No | Activities | Quantity | Covering Area | People Covered |
| 1. | Support to Setting a 100-bed Isolation Centre | 1 | Gaibandha District | Uncountable |
| 2. | Distribution of Surgical Masks | 64,000 Nos. | Gaibandha, Sirajganj & Nilphamari through local administration | 100,000 |
| 3. | Leaflet Distribution | 52,000 Copies | Gaibandha Sadar, Fulchhari & Saghata upazila | 100,000 |
| 4. | Miking on Hygiene Messages | 15 Days | 3 Gaibandha Sadar, Fulchhari& Saghata upazila | 300,000 |
| 5. | Airing of Awareness Messages | Everyday | 7 Upazilas of Gaibandha & other districts through On-line Service | uncountable |
| 6. | Publishing Awareness Messages by the Daily Newspaper | Everyday | Northern Districts &Nationwide through On-line Service | Uncountable |
| 7. | Health Advice through Community Radio | Everyday | Gaibandha & other districts through On-line | Uncountable |
| 8. | Festoon Display | 550 Nos. | Meherpur, Nilphamari & Gaibandha | 10,000 |
| 9. | Setting of Hand Washing Devices | 25 Nos. | Gaibandha, Nilphamari, Meherpur | 5,000 |
| 10. | Banner Hanging | 20 Nos. | Meherpur | 5,000 |
| 11. | Billboard Setting | 2 Nos. | Nilphamari | 4,000 |
| 12. | Red Flag Marking Houses with Patients | 200 Nos. | Meherpur | 2,000 |
| 13. | Distribution of Hand Sanitizers | 300 Nos. | Rangpur, Rajshahi, Khulna, Dhaka division | 4,000 |
| 14. | Hand Gloves | 6000 Pieces | Gaibandha | 2,000 |
| 15. | Microbus support to Health Department | 1 No | Gaibandha | As & when needed |
| 16. | Hand Wash Station Installation | 30 Comm. Clinics | Sundarganj, Saghata & Fulchari upazila of Gaibandha | 60,000 |
| 17. | Distribution of Handwashing Soaps | 10,000 HHs | Saghata upazila of Gaibandha district | 40,000 |
| 18. | Distribution of Food Packages | 17,75 HHs | Sagatha, Gobindhaganj, Sadullapur & Sadar upazila of Gaibandha district | 10,000 |
| 19. | Hygiene & Health Package (Bleaching Powder, Soap, Handwash Device, Sanitary Napkin, Mask, etc | 13,670 HHs | Gaibandha, Nilphamari & Sirajganj district | 60,000 |
| 20. | Cash Support for Food Purchasing | 4,803 HHs | Sadullapur, Fulchari, Gobindaganj and Gaibandha Sadar upazila | 30,000 |
| | Total | 30,248 HHs | | 562,000 |