Safe drinking water distribution among flood victims by SKS Foundation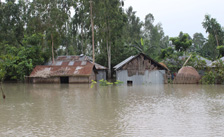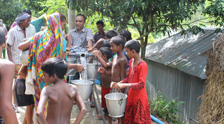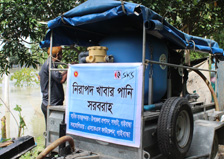 During the current flood it was found that, about 90% of the water points of the flood affected areas are inundated. So the inhabitants have been suffering from severe scarcity of safe water.
Considering the situation, SKS Foundation has decided to distribute safe water among families those have taken shelter on embankments and other high lands for use in drinking and other household purpose.
With the overall management of District and Upazila administration, SKS Foundation has been distributing safe water in the remote areas of Fulchari and Sagahta Upazila by its own water treatment plant and boats. At the same time, the organization has been installing temporary tube-wells in the remote areas with the direct support of Department of Public Health and Engineering (DPHE) in order to fulfill existing demand of safe water. Local government institutes and other elites are providing necessary assistance and solidarity supports.
The Honorable Deputy Speaker of the Parliament Mr. Advocate Fazle Rabbi Miah and the Deputy Commissioner of Gaibandha Mr. Goutam Chandra Paul visited the flood affected areas on 17th August. Suffering of the people forced them to advice Mr. Rasel Ahmed LIton the Chief Executive of SKS Foundation to support the flood victims in respect to water supply and install sanitation facilities. In response to the advice of the Honorable Deputy Speaker and the Deputy Commissioner, SKS Foundation initiated these endeavor to ease flood victims lives with its own fund. Being influenced by SKS Foundation's activities, Water Aid Bangladesh agreed to provide supports to ensure water supply by more four boats in the said Unions.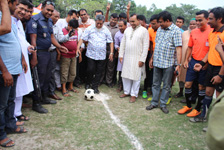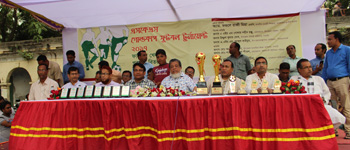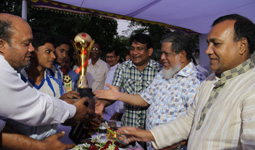 The final game of "SKS Gold Cup Football Tournament 2017" was held yesterday at the Bhartakkhali School ground in Saghata upazila. Bharatkhali High School and West Kachua High School were participating in the match. Bharatkhali High School defeated Poshchim Kachua High School by 4-1 goals.
Deputy Speaker of Parliament Jatiya Sangsad Advocate Fazle Rabbi Mia was present as the chief guest in the match and the Chief Executive of SKS Foundation Rasel Ahmmed Liton presided over the program. The more invited guest is Saghata Upazila Parishad Chairman AHM Golam Shaheed Ranju, Upazila Nirbahi Officer Ujjal Kumar Ghosh, Deputy General Manager (Program) of Palli Karma Sahayak Foundation (PKSF) AHM Abdul Qayum, Upazila Secondary Education Officer Md. Ahsan Habib, Bharatkhali Union Council Chairman Md. Samsul Azad Shitol, Upazila Secondary Teachers Association President Anowar Hosen Saju and so on. 
The chief guest said in his speech "Participation in the game is a big thing". He thanked SKS and PKSF for that type of tournament.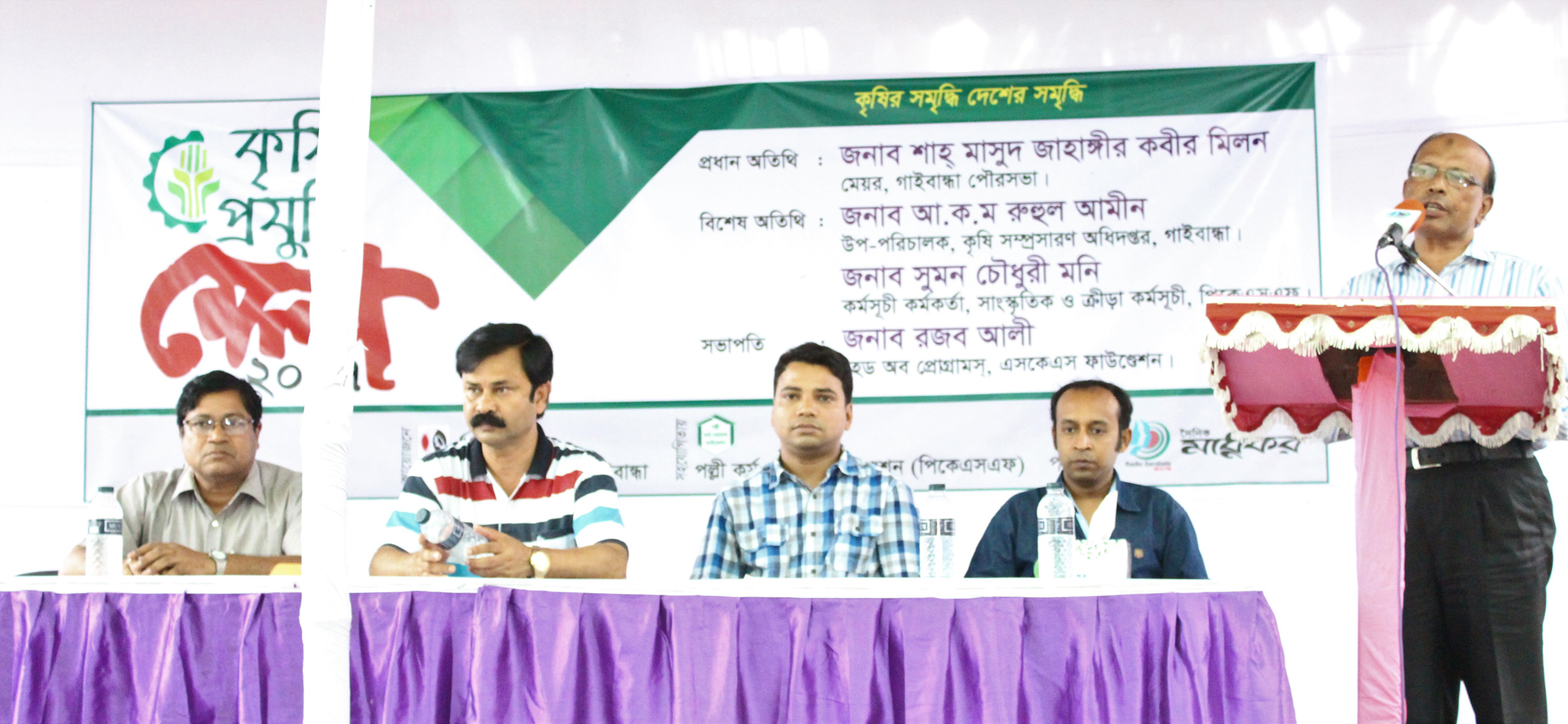 An agriculture Technology Fair was arranged by SKS Foundation funded by PKSF held on 6-8 April. There were 10 stalls of different projects especially POWER, REE-CALL, SHOUHARDO -III of SKS Foundation and other NGOs.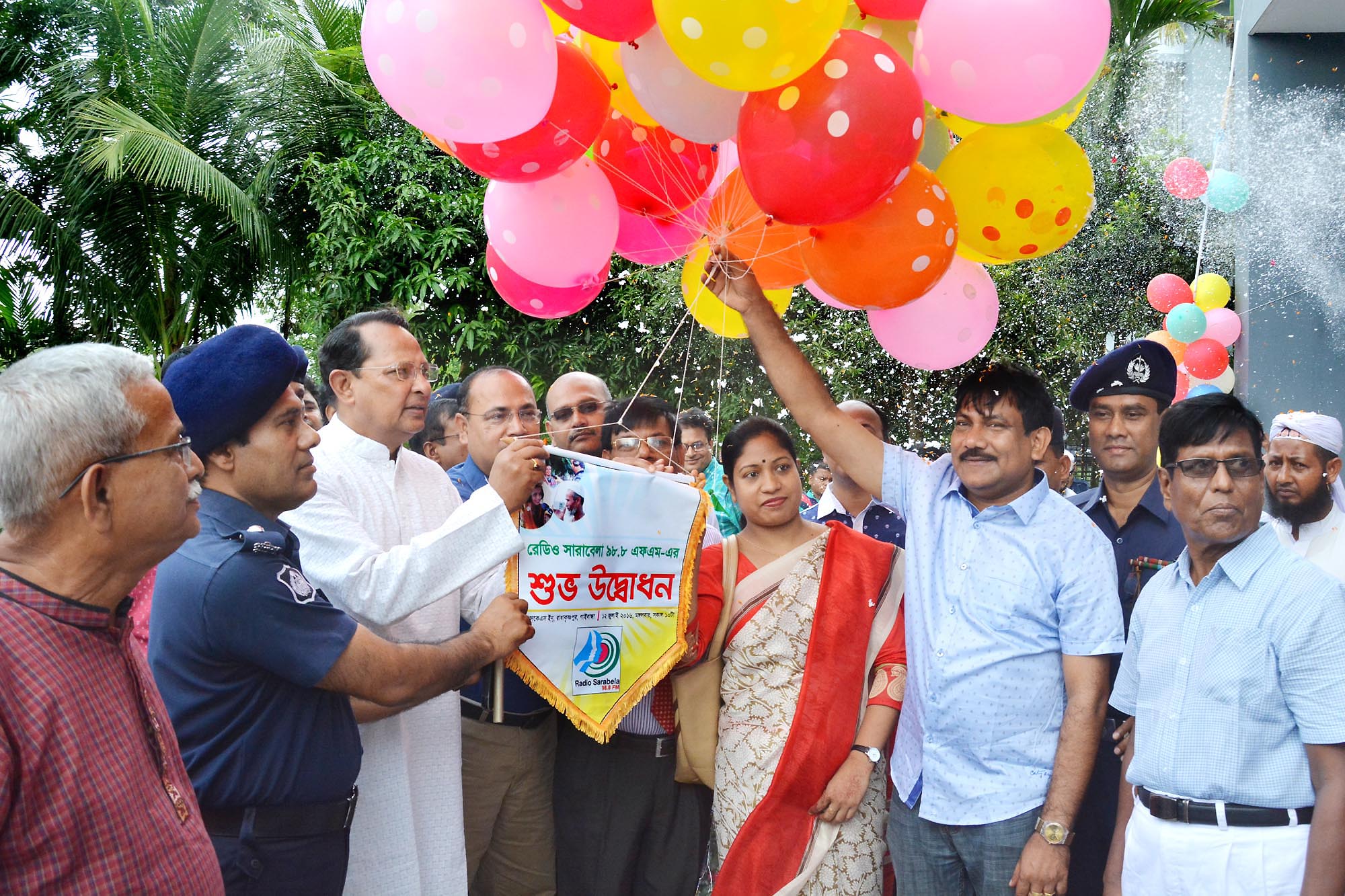 SKS Foundation initiated community radio 'Radio Sarabela' in Gaibandha. Radio Sarabela is broadcasting the program strives to contribute to a society in which all forms of poverty, discrimination and injustice have been eradicated, and the marginalized rural community is empowered and mobilized to engage in their own development.
Radio Sarabela works together with rural and char communities of Gaibandha district people to develop, produce and broadcast quality, sustainable programming with sound values to educate, empower, mobilize and uplift the social, economic and cultural lives of individuals, families and communities. Our vision is to be a successful, vibrant and energetic tool for positive change, leading by example as a flourishing, sustainable and professional community radio station.
Radio Sarabela has well equipped of station of production and broadcasting room with modern facilities. A total of 10 staffs and more than 40 volunteers are directly working in Radio Sarabela.